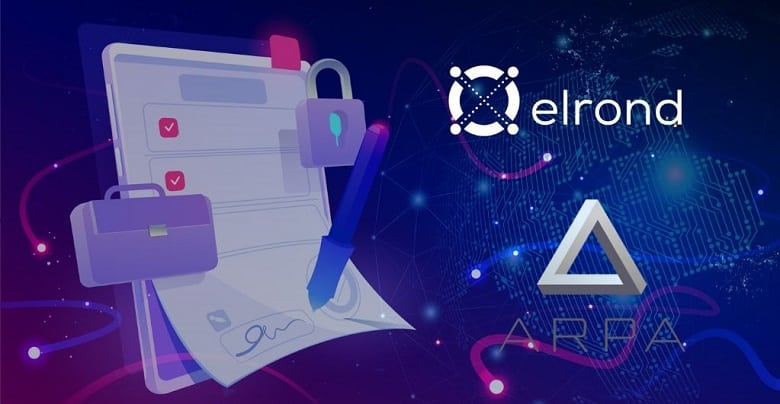 The blockchain arena, which is already growing at a really rapid pace, is set to see another significant collaboration that will take the spread of this technology a step ahead.
Elrond, a blockchain platform specifically designed for distributed apps, enterprise use cases, and the emerging internet economy, has inked a partnership with ARPA, a privacy-preserving computation solution provider for blockchains and enterprises.
The collaboration was announced recently by the CEO of Elrond, Beniamin Mincu, while he expressed excitement for the same:
Excited to collaborate with @arpaofficial & @felixmxu @wildwoodmoo on extending the use of secure multi-party computation.

Privacy-preserving smart contracts are key for enabling adoption of more sophisticated digital agreements.$ERD genesis is coming. #MainnetMarathon D24 🔥 https://t.co/rUIK33anGe

— Beniamin Mincu ⚡ (@beniaminmincu) June 11, 2020
ARPA's twitter handle too welcomed the partnership with a tweet, where it has shared details for the partnership:
To learn more about $ARPA and Elrond $ERD partnership, here is the full article. Elrond Gets Access to Privacy-preserving Smart Contracts via ARPA by @beniaminmincu https://t.co/S3D9x3GNDF pic.twitter.com/pGHxQGTQQS

— ARPA Official (@arpaofficial) June 11, 2020
This collaboration is going to result in the applications which will be utilizing the Elrond blockchain in order to ensure the security of multi-party computations on ARPA. Chiefly, the intention behind this partnership is to establish interoperability between both entities.
Here, what will be beneficial the most for the applications include the decentralized and trustless network by ARPA. These applications will also be able to utilize the highly scalable blockchain of Elrond. The features which these applications can offer are essential for fields like e-health implementations, data renting, information marketplaces as well as fintech scenarios.
ARPA basically functions efficiently to enable multiple entities to come up with different sets of data for mixed computations. Meanwhile, it makes sure not to reveal one party's data to others. On the other hand, Elrond is an emerging blockchain architecture. It has marked two key innovations, 1: a novel Adaptive State Sharding mechanism and 2: Proof of Stake (PoS) algorithm that is strongly secured.
This collaboration between two blockchain firms is going to affect the space in the most significant manner. While the pandemic has left the world, and the majority of the economies severely wounded, the blockchain industry is trying to spread its wings in many sectors.
Since when the Coronavirus pushed almost every market, including cryptocurrencies off the cliff, blockchain technology has been attempting to strengthen its position proactively. While blockchain has already given us so many use cases already, we may see the further engagement of the technology soon with our regular operations.