Business News
Business Level Strategy: Know How To Implement Business Level Strategies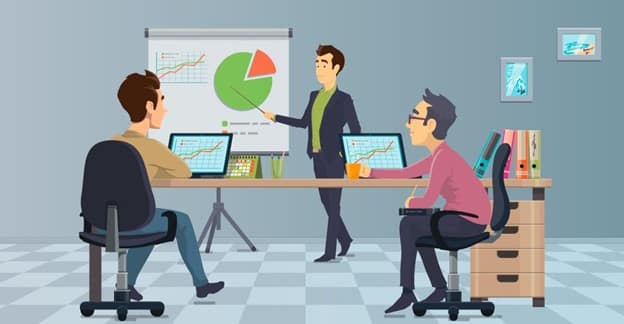 In the business world, setting up goals and achieving them by the business level strategy only. Without this business strategy setting up goals will take a business nowhere unless it has laid out a path to achieve them. 
What Is Business Level Strategy
A business level strategy helps companies strategize their goals and match them with the actions. Using business level strategies, a company can serve customers with quality products and services by leveraging its core competencies. In doing so, the corporate management ensures that it maintains a competitive advantage in the market. Not to mention that generating maximum profits tops the checklist of a business level strategy.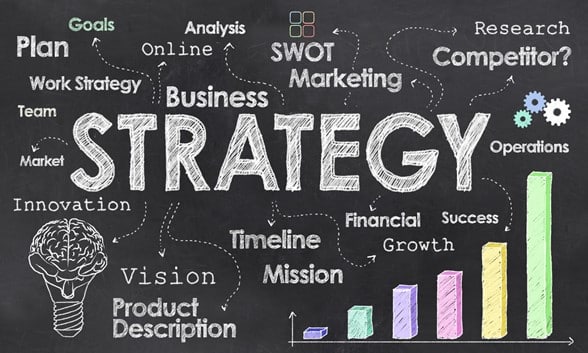 There are many stages of a solid business level strategy, all geared toward overcoming business hurdles, removing potential threats, capitalizing on opportunities, and achieving success. In its idea of targeting new customers and specific market segments, the corporate level strategy puts the company in a position to develop an efficient value proposition. Now, coming to the business level strategy stages, these include:
Understanding customer preferences in terms of cost savings, brand loyalty, and product quality

Identifying the target markets as mass markets and niche markets

Taking advantage of the business resources

Adopting the product differentiation strategy to stay ahead in the competition

Keeping a balance between quality service and competitive pricing
Let us move forward with this post to learn more about implementing business level strategies and their types with relevant examples.
Levels of Strategy-Making/Strategic Planning: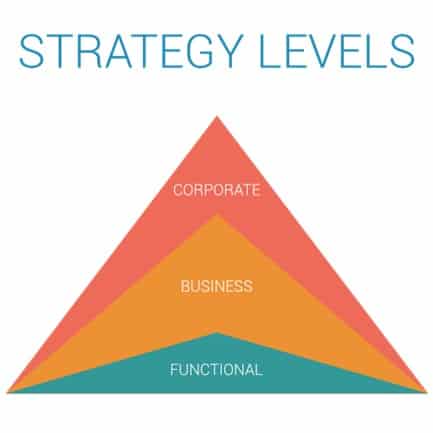 No business level strategy works alone, but it is a part of a subset of strategies that go hand in hand. The primary reason behind this is the company structure and distribution of responsibilities across all departments to ensure that the business level strategies are implemented effectively. Below are three different types of business level strategies.

1. Corporate Level
It is the foremost of the business level strategy with an emphasis on achieving growth and maintaining stability. The strategy involves top-level executives of the company and representatives from the divisions of accounts and audit.
Other focus areas of corporate-level strategy include retrenchment and expansion through mergers and acquisitions, strategic investments and divestments, and diversification. It is the most complex yet comprehensive strategy directed at the long-term vision and mission of the company.
2. Business Level
The next step is to put the corporate level strategy into action and determine how to utilize business resources to the company's advantage. By tapping new markets, enhancing product or service efficiency, rebranding, and setting targets for the entire business, business owners or general managers devise ways to forge ahead in the marketplace.
Since a particular business can have different operational segments, the company must implement a unique business level strategy for the respective departments.
3. Functional Level
It is the final and action-oriented phase, where the corporate and business level strategies are broken down into small objectives and allocated to concerning departments. The decisions made by operational managers and supervisors from marketing, finance, human resource, production, and R&D at this level ensure that the business strategy becomes a reality.
Under the functional level strategy, the executives track these strategies daily and make changes whenever needed to keep them working.
Types of Business Level Strategies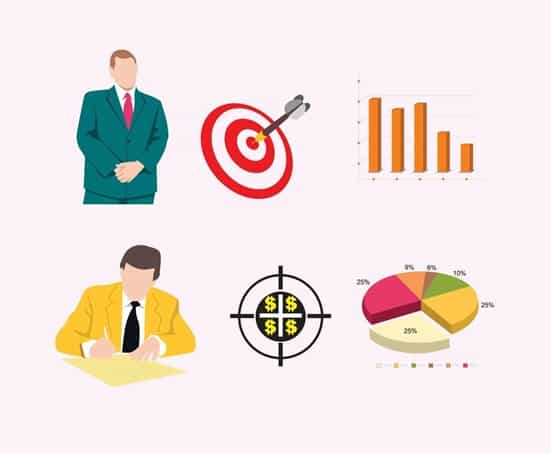 Two different organizations might not need to adopt the same business level strategies, for they might have specific business requirements, customers, and goals. Hence, there are three common and popular examples that many companies prefer to choose from to win customers and achieve their objectives.

1. Cost Leadership
Lowering the product or service cost is the immediate response of most businesses to beat the market competition. This way, the company broadens its customer base with more exciting product prices. Contrary to popular belief, competitive pricing, reduced operating expenses, improved inventory control, and streamlined shipping help companies generate sales, maintain profit margins, and in some cases make above-average returns.
It is best suited for large organizations with strong purchasing power. Amazon.com is the best example of it that attracts customers with low-priced products. To do so, Amazon buys products at lower prices, does away with brick and mortar stores, and uses top-notch distribution facilities. The savings then translate into discounted prices.
2. Product or Service Differentiation
Cost leadership is the most commonly practiced business level strategy example, so being different and innovative could be seen as a means to acquire new customers and markets. Organizations usually shift focus on improving customer service, creating new designs, and standardizing the quality that causes a bit higher prices for their products.
It sets a company apart from its rivals, makes its products stand out from the rest, and develops brand loyalty. Target customers, on the other hand, find it interesting to buy new products. The uniqueness offsets the production cost without compromising the product quality. For example, Apple relies on the differentiation strategy by charging a higher price for its sophisticatedly engineered devices.
3. Focused Low Cost and Differentiation
In the focused low-cost strategy, an organization targets smaller or unexplored, or less competitive markets and offers specialized products or services at relatively low prices. Not only does it generate revenue, but it helps the company to develop a brand affinity.
With focused differentiation, businesses target specific and narrow market segments with a smaller customer base. After analyzing the competition level and demands in the market, the companies offer niche products with additional and unique features at generally higher prices.
4. Integrated or Hybrid
An integrated or hybrid example is the blend of cost leadership strategy and differentiation strategy. Businesses that can take risks and operate on the philosophy of providing target customers with one-of-a-kind product experience belong to this category. They choose to target the mid-priced product and segment of the market where affordability and quality get equal attention.
How To Implement Business Level Strategies
Once the company has prepared a business level strategy, it is time to implement it across all three areas, including cost leadership, product or service differentiation, and focus. It is worth mentioning that operational excellence plays a crucial role in the process. In this section, we'll highlight the ways to enact business strategies.

1. Applying Cost Leadership Strategy
Delivering value to customers at a reduced cost or a low cost while still being profitable is the biggest challenge before any business. Even though keeping the operating costs below the market average might seem the ideal solution, the company must adopt a pure cost leadership strategy.
Using this business strategy, a company can offer products or services at a low cost, attract new customers, and gain a competitive advantage. Although the price is kept well below that of the competitors, the company still makes returns above the industry average. It can be done in three possible ways:
Drafting strict cost reduction policies

Investing in and employing the latest methods of production

Upping the quality standards for products and services
2. Applying Product or Service Differentiation Strategy
Cost is one way of adding new customers to a business. But to expand the existing client or customer base, the organization needs to incorporate a differentiation strategy. One way to do that is by rolling out the best quality products or services at premium prices in the market.
Thus, organizations can see growth in their customers and revenues over time by maintaining differentiation between their offerings and production cost. A differentiation strategy would look something like this:
Offering the innovative, unique, and best quality products or services

Providing industry-leading support to customers
3. Applying Focused Strategy
A focused strategy is where a company works on its core competencies to enhance the low-cost strategy and differentiation strategy. While the purpose remains to outperform its rivals, it is more of an improved and advanced version of cost leadership and differentiation.
Here the cost leadership strategy remains unchanged, and the only thing that goes into this is the market research. The company can achieve optimal outcomes by analyzing the target market niche before reducing operating costs and applying its strategy accordingly.
Focused Differentiation Strategy
In a focused differentiation strategy, Instead of keeping an entire focus on lowering the price of the product or service, the company takes another route to dominate the niche market. In addition to offering unique products, the company explores the most profitable niche market with fewer competitors in a focused differentiation.
Conclusion
A business level strategy is essential for a company to align its goals with result-oriented actions. The competitive strengths and consumer needs are two things that should not go unnoticed from the business standpoint.
Based on these, choosing from cost leadership, differentiation, and focus business strategies will determine how a business will penetrate the established or emerging markets and gain market share. Finally, the business level strategy could be a deciding factor for a company to survive the intense competition and remain profitable.