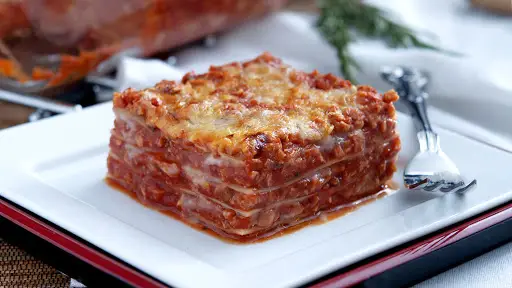 This traditional lasagne is an irresistible cocktail of tomato puree, white sauce, vegetables, and cheese, and takes just 1 hour to cook. 
In a pan, heat oil and saute garlic till light brown. Add tomato ketchup, chili powder, basil, oregano, and salt, and allow to simmer for a few minutes. In another pan, heat butter and brown flour in it, then add milk, allow it to boil, and simmer.
Now make up the lasagne. Add 2 cups of white sauce and 1.5 cups of tomato puree to the vegetables. Gently line the dish with a layer of lasagne strips over puree base, spread vegetables over it, and sprinkle some grated cheese.
Add four more such layers. Cover the last layer with white sauce and dribble some ketchup over. Sprinkle some more cheese and bake in a preheated (175C) oven for 30 minutes.