Blockchain News
Ethereum Classic Labs Joins Hands With Kobre & Kim and CipherTrace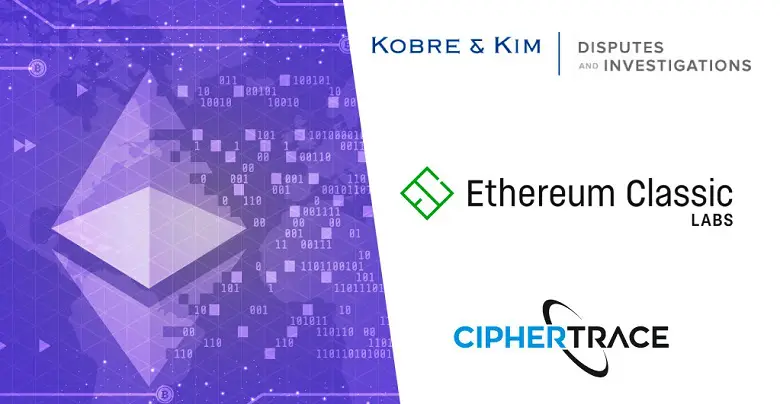 The Ethereum Classic Labs, the core developers for the Ethereum Classic blockchain, have been targets of a series of attacks in the past few days. The group behind the core development of ETC Labs has now decided to carry out sufficient investigation and bring charges against those who are behind these unprecedented attacks. The ETC labs, in a recently given press statement, has revealed that it has retained the services of Kobre & Kim, the law firm and CipherTrace, the analytics provider for helping the Labs in the thorough investigation and the diversion of charges to who was behind the attacks on Ethereum Classic.
The ETC Labs have reiterated that there will be full co-operation with all agencies and stakeholders in the US, which will help to study the transactions and identify the parties who are capable knowledgeable enough to make the said attacks. The stolen fund will be traced back to the digital currency service providers, and the hackers will be prevented from converting the stolen cryptocurrencies to fiat. CipherTrace CEO says it focuses on the crucial role of blockchain analytics in ensuring the firmness of the digital currency economy. However, ETC Labs and its partners are hopeful that this adversity will pass away smoothly as the history of the ETC shows that they are sufficiently strong and will overcome this adversity with ease.
For those who are not aware, the ETC chain was hit by a couple of 51% attacks last week. The report clearly stated that 807, 260 ETC ( worth USD 5 million) was spent doubly at the cost of USD 192,000 in bitcoin so that adequate hash power was obtained to carry out such attacks. These kinds of attacks have a double-edged objective – creating alternate transaction histories and double-spending the tokens.