Blockchain News
Exeedme to Integrate Matic and Enable Gamification Experience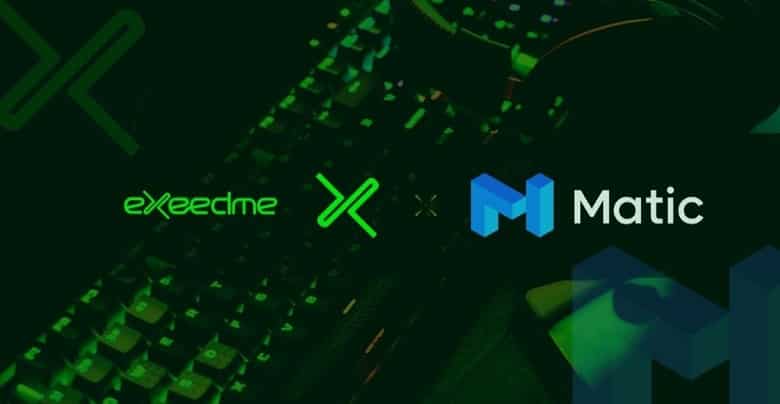 Exceedme, a top blockchain-powered gaming company, has joined hands with Matic, a blockchain scalability platform, to deliver an exceptional gaming experience. While Exceedme will allow gamers, developers, and gaming communities to earn through its DeFi and NFTs, Matic will support Exceedme through its speed and scalability, which synergistically will deliver a real-time NFT gaming experience. 
Exceedme, through its blogpost, stated that gamers can exploit the opportunity of betting on their own victory with liquid cryptocurrency. This opens a new dimension of game mining to its gamers each time they opt to play.  This will prove to be a massive hit because it will allow the gamers to earn $XED and unlock rare NFTs that gamers can use for buying and selling or for simply accessing the DeFi and gaming opportunities. 
It further explains that, since the Matic network is a layer 2 scaling solution, the partnership will gain leverage from its enhanced scalability power. This will be achieved as Ethereum developers will scale up DApps through layer 2 scaling solution opening its access to a wider audience. With a rationale to provide a seamless transactional experience, traffic-free network, and NFT rewards, the collaboration is heading towards delivering a real-time NFT gaming experience. 
Matic, on the other hand, will have access to the popular Exceedme community for driving $matic tokens and stakes. The growing space of NFTs is now looking to capture blockchain gaming technology as well. The collaboration will bring new exciting tournaments and rare NFTs to the gaming community.  Sandeep Nailwal, COO at Matic, stated that the exciting partnership would not only leverage Matic's overall NFT ecosystem and Infrastructure but also through Exceedme's remarkable blockchain gaming platform.  The synergy of Matic and Exceedme will unlock the scalability like never before, further allowing it to expand its user base by another million. 
Francisco Varela, CSO at Exeedme, expressed his excitement on partnering with Matic and stated that Matic's scalability solutions would give a competitive advantage enabling a seamless, quick, and clutter-free interface to provide an exciting gaming experience as well as it will unlock exciting opportunity to earn, buy and sell the rare NFTs. The two powerhouses are set to deliver a real-time NFT gaming experience to their large community of gaming fans.