Celebrity News
Miley Cyrus to Make New Funding Commitments for Black Lives Matter Campaign
Asks State Heads of Italy and Spain to Join In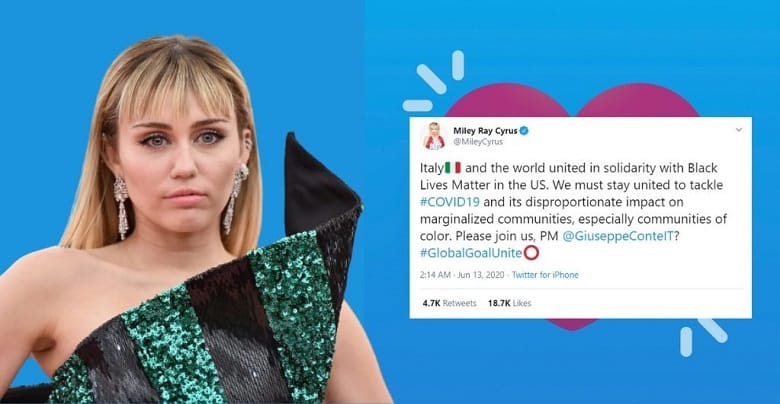 American pop singer and superstar Miley Cyrus will make new commitments for the Black Lives Matter Campaign on June 27, she said in a tweet on Sunday. Interestingly, she has asked Giuseppe Conte, the President of Italy, to join in.
Grazie mille ! Looking forward to new funding commitments on June 27 needed to provide access to treatments & a vaccine for everyone, everywhere. #GlobalGoalUnite https://t.co/aLjii17ymo

— Miley Ray Cyrus (@MileyCyrus) June 13, 2020
The Black Lives Matter Campaign has been in the headlines ever since the horrific murder of George Floyd. It triggered nationwide protests against police brutalities against the African-American community, which took the world by storm. Celebrities from various walks of life, right from Hollywood to Bollywood, WWE to the UFC, podcast hosts to scientists, have all come together in support of the campaign.
Miley Cyrus Has Been on the Forefront
The Hannah Montana star tagged President Conte in a tweet on Saturday, asking him to join the fight against the disproportionate impact of COVID19 on marginalized communities, especially the communities of color. In reply to her tweet, President Conte agreed to stand in solidarity, stating that Italy has been ensuring equitable and universal access to vaccines and treatments.
Italy has been at the frontline of the fight against #COVID19 and is engaged in the ACT-Accelerator to ensure universal and equitable access to vaccines and treatments. International cooperation and solidarity are key to succeed. Together we will make it, Miley #GlobalGoalUnite https://t.co/NCq0xbBckM

— Giuseppe Conte (@GiuseppeConteIT) June 13, 2020
Likewise, she made a similar request to the Prime Minister of Spain, Pedro Sanchéz, to which he replied saying,

The #GlobalGoalUnite is a campaign to collect funds to help the marginalized communities in their fight and resistance against racism and COVID19.