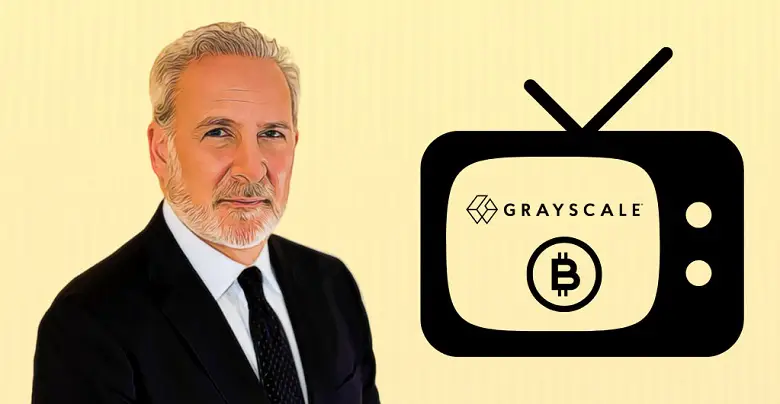 Gold investment promoter and popular financial analyst Peter Schiff tweeted on Sunday that Grayscale is about to run a TV ad campaign for duping investors into buying Bitcoin. He said that since the last time they ran the campaign, Bitcoin is down by 12%, while gold is up by 60%.
Grayscale is about to run another TV ad campaign duping investors into buying #Bitcoin. Since @barrysilbert urged investors to drop #gold the price is up 60%. If you did, and bought Bitcoin, not only did you miss the gains in gold, but you're down as much as 16% on Bitcoin. Ouch!

— Peter Schiff (@PeterSchiff) August 9, 2020
Schiff has been a long time critic of Bitcoin and other cryptocurrencies, and he recently even debated with popular Bitcoin influencer Anthony Pompliano. Barry Silbert, founder and CEO of Grayscale, replied to Schiff's tweet, asking him to "check his math." Barry said that the previous TV ad began last year on May 01, when Bitcoin was priced at $5,300. At the time of writing this article, Bitcoin is trading around $11,977 a piece.
check your math, Peter. TV ad started on May 1, 2019 (BTC was $5,300)

frankly, look at BTC vs gold performance over literally any timeframe and, in ALL cases, BTC has outperformed

btw, thanks for the continued free advertising for the @Grayscale family of crypto funds

— Barry Silbert (@barrysilbert) August 9, 2020
In his defense, Peter posted another tweet in which he said that Barry Silbert had urged investors to drop gold and buy Gold BTC (GBTC). He said that GBTC is down by 25% since June 2019, a month after the ad campaign, while Gold grew by 50% in the same period.
Actually @barrysilbert urged investors to drop #gold and buy GBTC, his #Bitcoin Trust. The TV ad campaign began in May 2019, and if you bought the high price in June, you're down 25%. Since that date gold is still up over 50%. I hope investors won't follow this bad advice again.

— Peter Schiff (@PeterSchiff) August 9, 2020
Grayscale is a global digital asset management company, and one of the foremost promoters of Bitcoin and Bitcoin Gold. The company's Managing Director, Michael Sonnenshein announced that the new ad campaign will begin today at 7 am ET.
Bitcoin has witnessed a steady growth in the past few weeks, and gold grew steeply since the outbreak of the Coronavirus Pandemic in early January. However, the prices of both the assets have faced slight correction in the last couple of days.