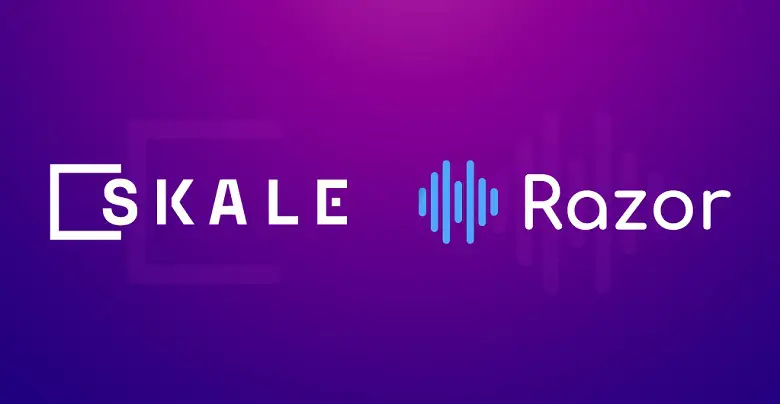 Razor Network announced its partnership with Skale. This partnership is aimed to streamline DApp development while providing fast and safe Oracle solutions.
The Razor-Skale infrastructure will provide developers with the necessary tools to build highly scalable, secure, and high-performance DApps with access to real world data.
More details:https://t.co/iyaeLazXy4

— Razor Oracle Network (@razor_network) September 1, 2020
The Razor Network is an end-to-end decentralized oracle service provider. Its safe Ethereum-based ecosystem helps connect smart contracts with real-world data. To make the existing business model more secure and effective, Skale has partnered with Razor networks.
Talking about Skale, it is a decentralized elastic blockchain network that is completely Ethereum-compatible. That means it can easily get along with Razor network. Like other elastic blockchains, Skale is a highly performant and configurable blockchain. It utilizes the latest norms of cryptography while offering demonstrable security.
With Skale's modular protocol, the developers can easily provide highly configurable blockchains. Such blockchains built on Skale don't compromise on security, storage, and computations. If we talk about harnessing the prowess of Skale along with Razor's network, the developers don't need to learn something new as they can simply use Skale's existing tools while putting some additional code lines. In turn, it will speed up the smart contracts and DApps.
How can DApp developers benefit from the Razor & Skale partnership?
The DApps built over Skale always require access to reliable and real-time data from external networks. This access is provided by external agents, better known as oracles. And, if we talk about today's available oracles, they are hardly secure and reliable. Because almost everyone is offering centralized systems, which means there is always a risk of data theft and fraud.
As discussed earlier, Razor is an end-to-end decentralized oracle service provider. That means there are no risks involved as in centralized or single-point failure systems. With the partnership between Skale and Razor, DApp developers could easily develop and deploy applications safely and swiftly.
Thus, this partnership between Razor and Skale is set to revolutionize the existing developers' ecosystem. Now, the developers would no longer need to compromise on the fee, speed, and security of DApps. DApp developers can simply use the existing tools of Skale to develop high-performance, scalable, and secure DApps.