TRON News
Sesameseed Produces Over 800,000 Blocks on TRON Network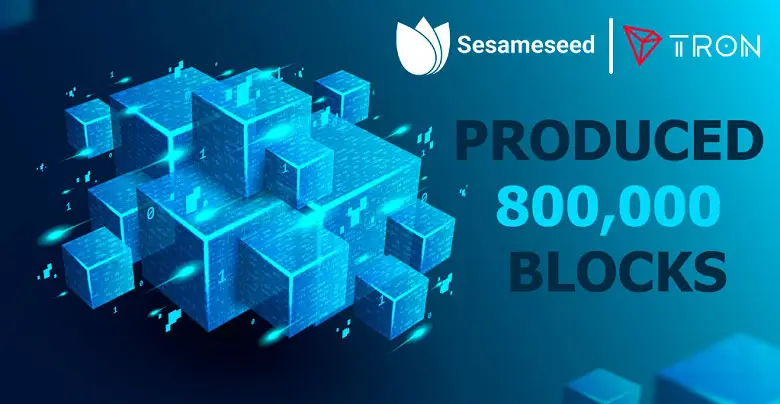 Crypto staking platform Sesameseed announced that it has produced over 800,000 blocks on the TRON Network, citing the data from the network's block explorer TRONSCAN. Thanking the community for the monumental milestone, Sesameseed also added that as per the data, it has now produced more blocks than any other active TRON super representative (SR).
800,000 Blocks produced on #TRON 🎉@TRONSCAN_ORG shows we have now produced the most blocks of all active #TRONSR. We are proud to have reached this monumental milestone together with the support of our community.https://t.co/8Z3e0zt29v pic.twitter.com/0u0PkMthqA

— Sesameseed (@SesameseedOrg) August 4, 2020
The Los Angeles-based Sesameseed is one of the biggest crypto staking and rewards platform and is the creator of crypto wallet Sprout. As of date, Sesameseed is ranked 7th in the list of super representatives, after Binance Staking, NEOPLY-Staking, Poloniex, BitGuild, BitWiresPool, and TronWalletMe. Justin Sun, CEO of TRON, congratulated Sesameseed on the achievement, emphasizing on the mammoth block production.
According to @TRONSCAN_ORG, #Sesameseed has produced 800,000 blocks on the #TRON network.#TRONSCAN also shows @SesameseedOrg has now produced the most blocks of all active #TRONSR.

🎉Congratulations to Sesameseed for reaching this monumental milestone.https://t.co/oTIK9tQkdh

— Justin Sun (@justinsuntron) August 5, 2020
Sesameseed's massive block production can also be attributed to the fact that the demand for crypto staking has been quite high. This is quite evident as out of the top seven ranked TRON super representatives, three are directly involved in crypto staking, while others are involved indirectly. And with the growing awareness in other ecosystems as well, the demand can only go upwards.
The staking platform relies heavily on community participation and rewards the members for the same through its native token, SEED. The token offers special benefits to the holders like unique rewards from SEEDGerminator projects, and it can also be exchanged for its pegged value. However, it is worth mentioning that users cannot buy SEED, as Sesameseed doesn't sell any. They can only be earned through community participation.