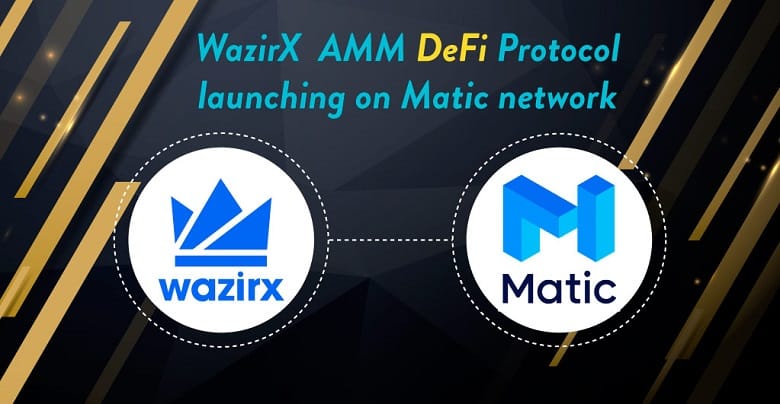 India's premier crypto trading network – WazirX announced on Saturday the all-new Automated Market Maker (AMM) protocol in partnership with blockchain applications development platform Matic Network. According to CEO and co-founder Nischal Shetty, the new AMM protocol will allow users to create their own liquidity pool and earn trading fees.
Announcing the WazirX AMM Protocol

We're partnering with Matic Network

Users will be able to create their own liquidity pool and earn trading fees.

We'll be weaving in WRX into this protocol to enable rapid growth 🚀$WRX #WazirXDeFi https://t.co/gUTZhy8PpT

— Nischal (WazirX) ⚡️ (@NischalShetty) August 15, 2020
As per the official blog post on its website, WazirX stated that though DeFi has picked up pace worldwide, it is still in its early days, and has the potential to transform traditional finance into being permissionless and open. They further said that DeFi is just beginning to pop-up in India and that they are determined to bring India at the forefront of the DeFi revolution.
The new AMM protocol is an innovative DeFi application that allows the exchange of tokens by creating a liquidity pool, without the need to use order books. The blog further mentioned WazirX COO and Co-founder, Siddharth Menon saying that DeFi is based on transparency which is a good thing for crypto as it instills confidence in institutional funds. Menon further added,

Decentralized finance has seen significant growth in the past few months. Demand for DeFi dApps is increasing by the day, and countries like India have a huge unexplored potential. WRX, the native token of the Binance-owned WazirX, is expected to play a big role in the DeFi revolution in India. In a subsequent tweet, Shetty stated that the platform was working to bring new use cases for WRX in their DeFi initiatives. He also added that governance is a major use case for the token, and according to the official announcement, WRX will be used as the governance token for WazirX's new AMM protocol.
We're working on $WRX use cases in our DeFi initiatives.

Governance is a major use case for tokens in DeFi, one that is adding value to a lot of tokens. We'll definitely be exploring that use case for #WRX ✌️ https://t.co/XRzKaeiplj

— Nischal (WazirX) ⚡️ (@NischalShetty) August 16, 2020
The AMM protocol will use Matic's Ethereum Layer-2 for ensuring high-level security, high scalability, and optimum decentralization.