Blockchain News
EvidenZ – BCdiploma Announces Partnership with Aleph.im Network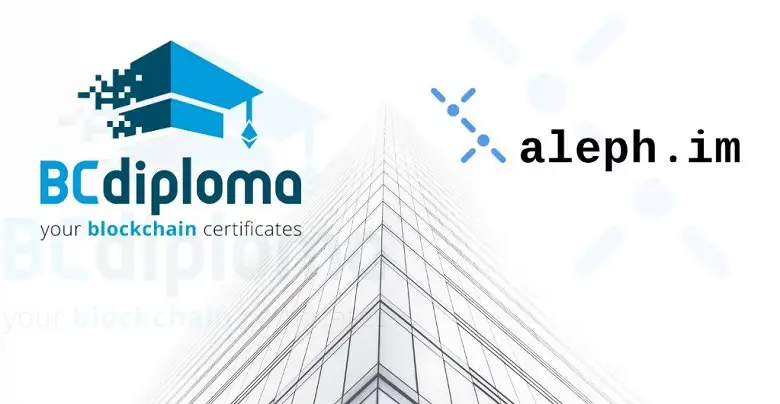 Blockchain-powered certification technology network EvidenZ – BCdiploma has announced a partnership with decentralized storage infrastructure platform Aleph.im. As part of the agreement, EvidenZ will utilize the strong blockchain storage infrastructure as security and storage for its certifications in a decentralized manner. In return, Aleph will be able to avail the robust framework of EvidenZ and offer integrated services to its users.
🔥We are very proud to announce a partnership with @aleph_im, leading decentralized storage technology💪
More information here:
⏭️https://t.co/inw58y3tnB#blockchain #digital #credentials $BCDT $ALEPH

— EvidenZ – BCdiploma (@MyEvidenZ) August 21, 2020
EvidenZ is one of the leading blockchain-powered certification protocols for higher education. The B2B SaaS solution, BCdiploma, allows educational institutions to issue blockchain certificates, ensuring privacy and security. As of date, they provide services to more than 90 institutions in 12 countries, with certification for various fields including diploma, ISO certificates, notarial certificates, academic and educational certificates, etc.
With the help of Aleph, EvidenZ will be able to connect with other blockchain networks, without any friction. Moreover, it said in the Medium post that working with Aleph will open doors to new use cases for them, which will save them tons of resources that would have been spent otherwise.
Aleph.im, on the other hand, is a platform with superior decentralized data storage technology. Built on a robust decentralized cloud computing network, IoT messaging, and analytics, Aleph has recently expanded its footprint in the DeFi segment.