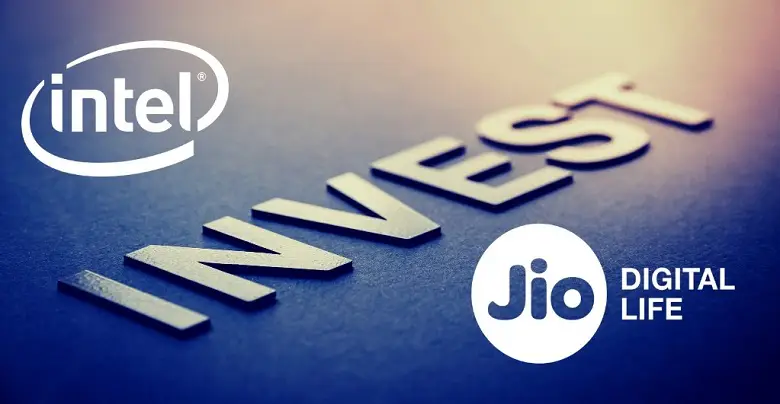 Reliance Digital Network's value is skyrocketing with the continuous pouring of investments. Recently, Facebook invested around 5.7 billion dollars for a 9.9% stake in the Jio platform.
Leading tech leader, Intel has now announced its next investment in Reliance Digital Unit for around $253 Million.
Intel's Investment in Jio:
With this investment, Intel has acquired a 0.39% of stake in Jio, which is worth around Rs. 1,894 Crore. This is the 12th investment acquired by Jio in 11 weeks.
This investment by Intel holds a value of 4.91 lakh crores as an equity value and 5.16 lakh crore of enterprise value.
Mukesh Ambani shared his views on this investment by a leading tech company,

He proposed,

Jio's latest investors include Facebook from the United States, Silver Lake, General Atlantic and KKR, Mubadala, and the Authority for Investment of Abu Dhabi in Abu Dhabi and the National Investment Fund of Saudi Arabia.
Intel Capital President Wendell Brooks said Jio Platforms are persistent in leveraging its amazing technological capability to provide low-cost digital services in India. It is also consistent with the mission of Intel to provide life-enriching revolutionary technologies.
Jio's Golden Decade:
Ambani exclaimed Jio is in its "Golden Decade" as the firm reached his dream milestone last month. He added, "I have fulfilled my promise to the shareholders by making Reliance net debt-free much before our original schedule of 31st March 2021." The debt was estimated to be around $21 Billion.
With Intel's investment, Jio now is of an estimated value of more than 1,17,588.45 crore and this value is the world's largest continuous fund acquired any company.