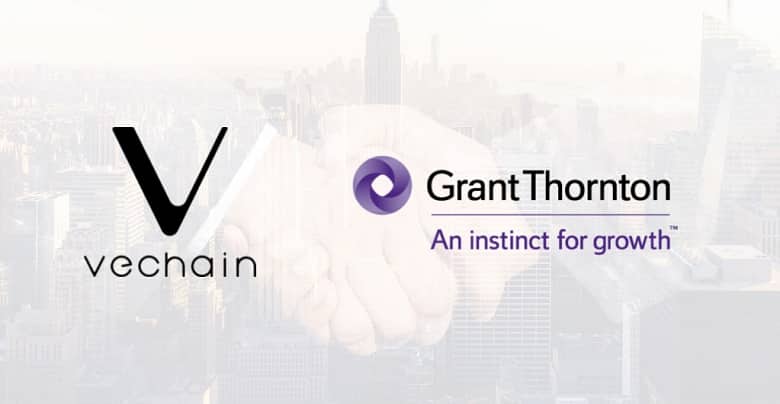 Singapore based enterprise blockchain solutions provider VeChain has announced a partnership with Grant Thornton Cyprus, an accounting and business advisory company from Cyprus. As a part of the agreement, VeChain will provide integrated advanced blockchain solutions to Grant Thornton Cyprus's clients who belong to various industries including, food, medical, pharma, and automotive.
VeChain is proud to announce our partnership with @GrantThorntonCY! Combining Grant Thornton's professional consultancy & #VeChain tech, the partnership will open the doors to thousands of companies looking to integrate advanced #blockchain solutions.https://t.co/meFCeSCzRH

— VeChain Foundation (@vechainofficial) August 17, 2020
The partnership will allow the heavyweight clients of Grant Thornton Cyprus to access advanced blockchain solutions provided by VeChain. This is a major boost for VeChain as Grant Thornton Cyprus has a large user base spanning across 135 countries. Grant Thornton Cyprus established its technology services advisory arm in 2018, and it also provides blockchain consultancy services. The recently established department will work in tandem with VeChain's expert team to deliver tailor-made blockchain solutions to its clients.
Commenting on the partnership with a giant like Grant Thornton Cyprus, VeChain Co-founder and CEO Sunny Lu said that there has been an imminent restructuring of the global economic order triggered by the Coronavirus Pandemic, and now there's an urgent need for digitalization and digital solutions. He added,

Built on the robust distributed ledger technology integrated with various business use cases, VeChain ToolChain will help Grant Thornton Cyprus to provide potent, secure, efficient, and stable blockchain services to its clients. ToolChain, combined with Grant Thornton's global professional consultancy expertise, will provide thousands of businesses across the globe to explore and implement blockchain technology. Director of DLT for Grant Thornton Cyprus, Alexis Nicolaou said,

Alexis further added that the wide range of services that VeChain's ToolChain offers would help it meet the ever-growing demand for digital services from its clients effectively and efficiently.