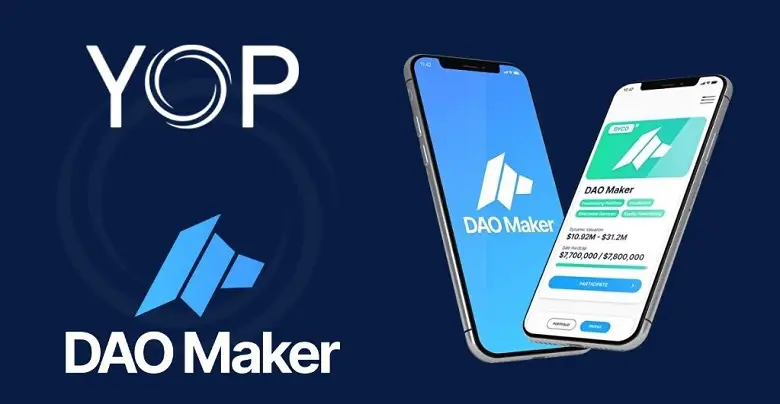 Yield Optimization Platform & Protocol, an all-in-one yOptimization app, announced their strategic partnership with DAO Maker ($DAO), a leading DeFi protocol.
Both YOP and DAO Maker share similar visions of growing DeFi. YOP's token has been continuously trending on DEXTools and CoinGecko; however, YOP is now focusing on expanding. Hence, they have collaborated with DAO Maker to benefit from DAO Maker's ecosystem. YOP's token would be the first-ever token to qualify for the DAO community's deposit vote.
DAO Maker would help strengthen YOP's stack of technology, which would allow them to develop better products for their customers. YOP would now be able to collaborate with major DeFi protocols by launching several projects from the DAO Maker's platform.
YOP would integrate DeFi protocols across seven major blockchain networks, including Ethereum, Polkadot, Binance Smart Chain, and Solana. DAO Maker will support YOP to attain its goal of making finances simplified and transparent.
YOP has confirmed that they would be gaining access to the exclusive DAO maker Reward Vault, a reward contract for $DAO investors. The DAO community earns monthly deposits from DAO and votes on investment matters. The community members decide the investment direction of DAO Maker's own communal portfolio. The community has also voted to purchase assets of $70000 on monthly exchanges.
DAO Maker's ongoing projects have already exceeded a market cap of USD 300 million. Thus, the incubated projects are eligible for 5120% average ATH returns.
YOP is an all-in-one yOptimization tool powered by Ethereum and Polkadot ecosystems and fuelled by $YOP. The yPlatform lets everyone easily access yield markets. The yProtocol is YOP's proprietary mechanism with which everyone can gain better access to yield markets.
DAO Maker has created Social Mining, the most futuristic platform to convert Tokenized Ecosystems to DAO (Decentralized Autonomous Organization). DAO Maker provides strategic consulting and community incubation and pioneers at offering consultation to blockchain tech implementation for business development and growth.